SkinMedica
As skin ages, elasticity decreases, lines appear and overall appearance is diminished. To counteract the effects of time, our skin care products contain restorative ingredients that work below the skin's surface to regenerate the health of the skin. Skinmedica products use scientifically proven recovery compounds, including essential ingredients ranging from vitamins C and E to retinol. The patented blend of growth factors, soluble collagen, antioxidants and matrix proteins are what make Skinmedica such an unbelievable product. Skinmedica reduces fine lines, fades age spots and discoloration, and improves the texture and elasticity of your skin.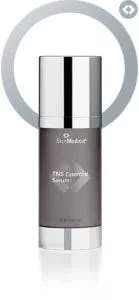 TNS Essential Serum
This TNS Essential Serum is an unparalleled anti-aging serum and the first to combine the benefits of the patented growth factor serum, TNS Recovery Complex®, with antioxidants, peptides and other anti-aging ingredients used to regenerate your skin.*
All-in-one anti-aging product*
Improves the appearance of fine lines and wrinkles*
Improves the overall tone and texture of your skin*
Seven antioxidants that go beyond fighting free radical damage*
Specialty ingredients that plump and brighten the skin*
*DISCLAIMER: Individual results may vary. Results are neither guaranteed nor permanent.